Artist Creates An Enchanting World Where Humans Live With Giants Animals
A mysterious Japanese artist, who goes by the pseudonym of Ariduka55 on social media channels, specializes in drawing illustrations that bring the breath of life int
Ariduka55 is the online alias of a mysterious Japanese artist who specializes in creating pictures that breathe life into brand-new fantasy worlds where enormous animals coexist and develop alongside people.
These illustrations are inspired by our ordinary world with the exception that the little animals such as cats, dogs, rabbits, owls, raccoons are close in size to a giant. Despite the presence of enormous animals, the scenes almost always have a calming, ethereal atmosphere.
The artist believes that using art to console people during difficult times is a wonderful idea. So, each illustration was created to provide positive energy for people who are exhausted, working hard, or having a difficult time in their life.
Amazon.com; Tumblr; Pixiv.net; more information
#1. A girl comes back home and uses a HUG card on her cat.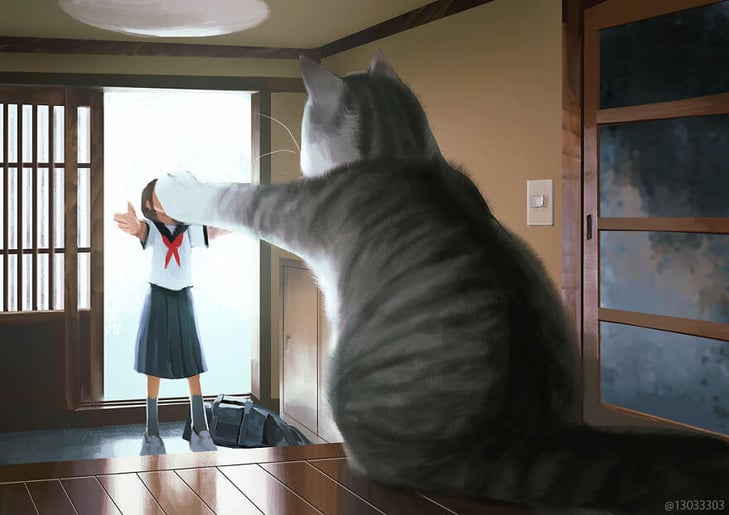 #2. A perfect world where you can surrender yourself to sleep on a giant ball of fur.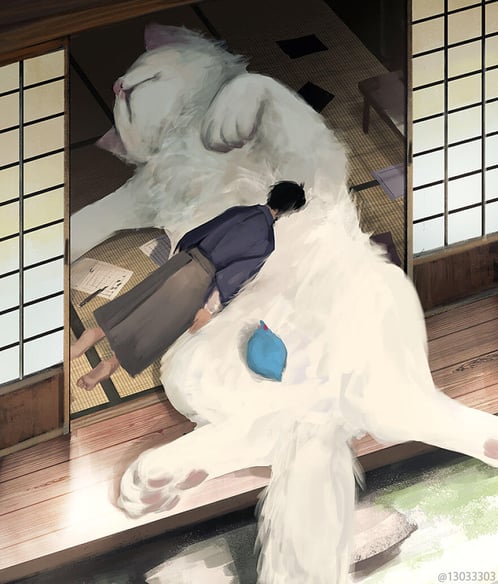 #3. A tranquil and slightly gloomy part of the series featuring a Korean crow-tit (Baepsae).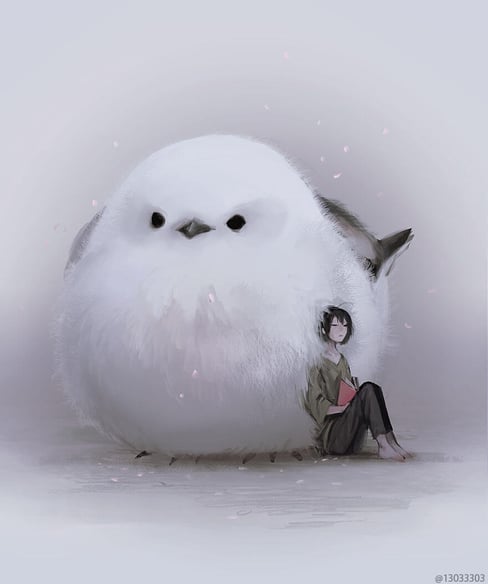 #4. A stray cat looking for a place to call home.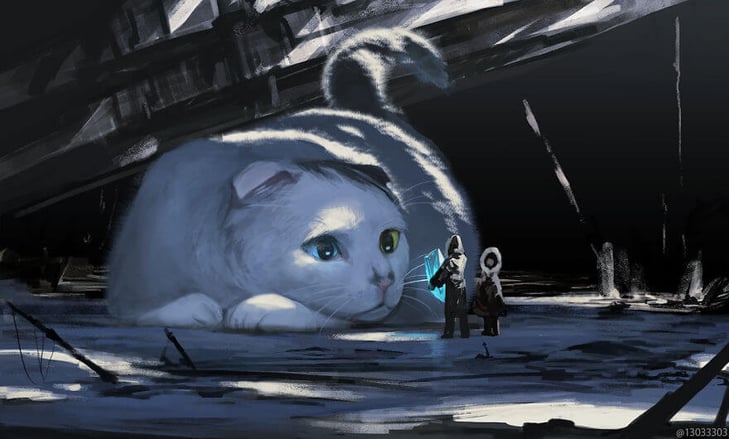 #5. The Ainu people believed that they were born from the union of a wolf like creature and a goddess.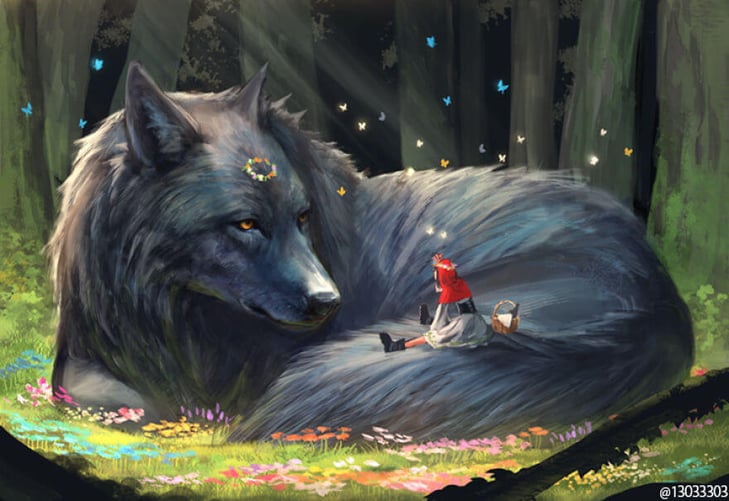 #6. A huge ball of cotton and a blue blob of a bird.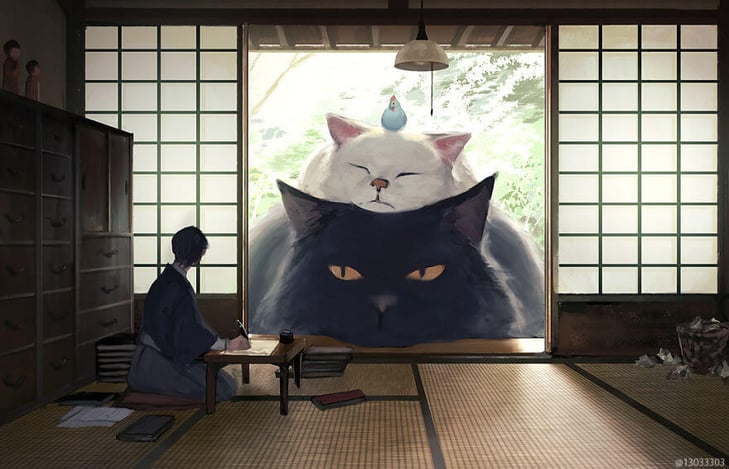 #7. The art of camouflage is on point in this picture.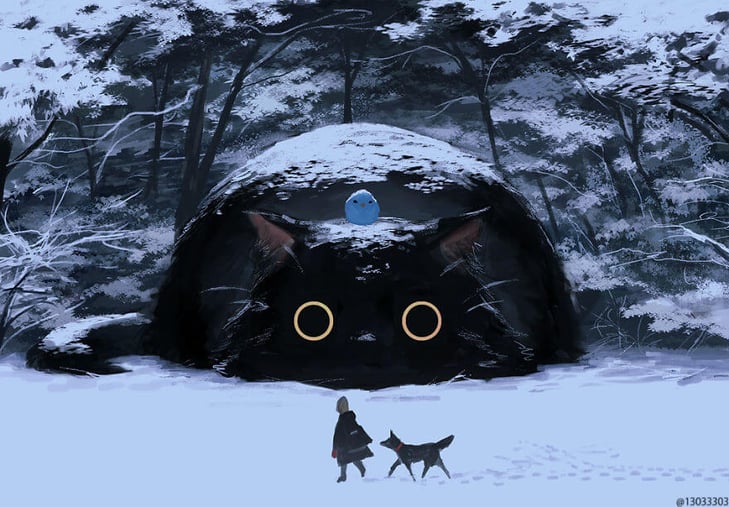 #8. A peaceful autumn afternoon at the shrine saturated.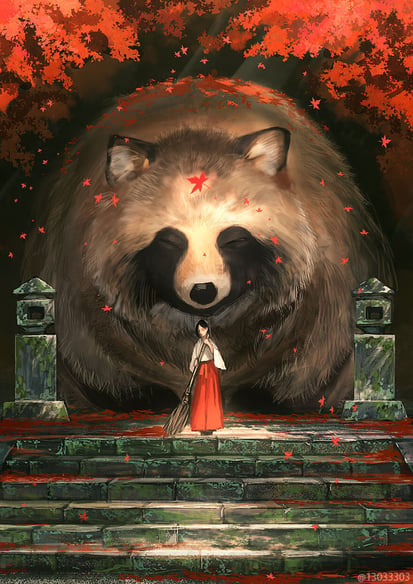 #9. Japanese culture sees a black cat crossing your path as a good omen.
#10. This cat sports a pair of magnificent blue horns.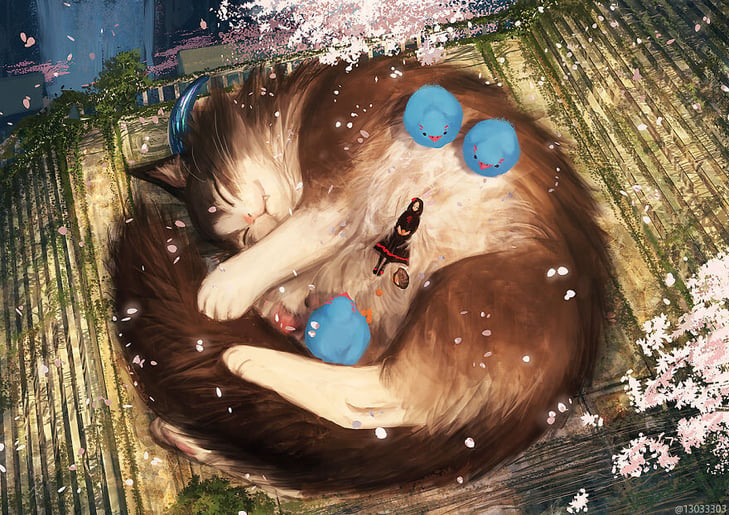 #11. How did this girl get a fox inside the school?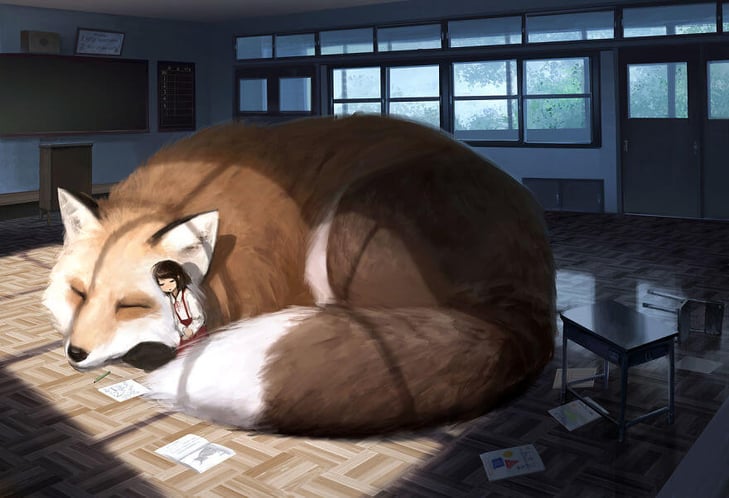 #12. One of the more famous elements in Asian folklore is the Moon rabbit.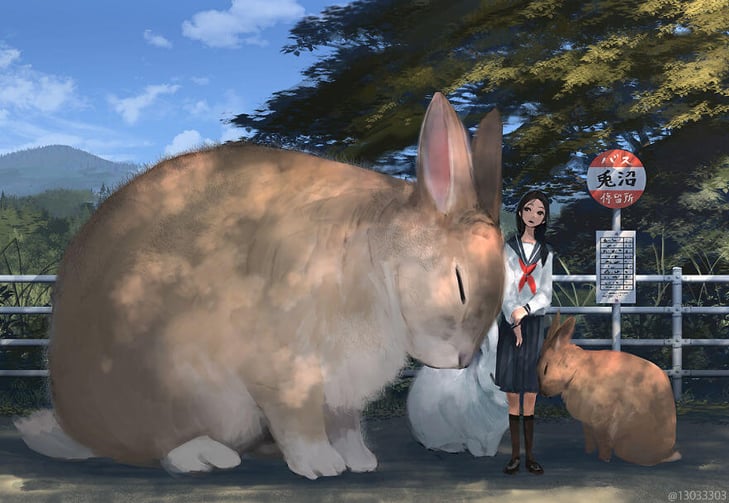 #13. The fox plays a role in Japanese culture that's unusually rich and complicated.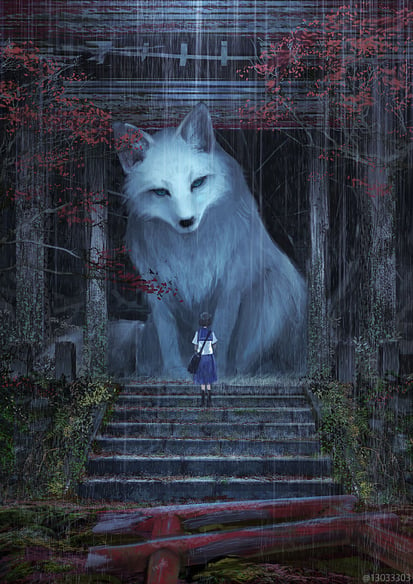 #14. "Japan perceives the butterfly to be a 'soul of the living and the dead.'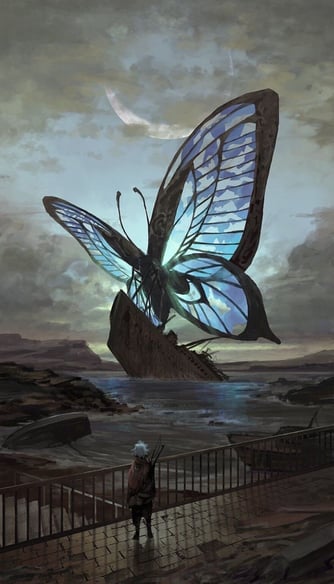 #15. A white feline hiding from the afternoon's sun behind the curtain of draping flowers.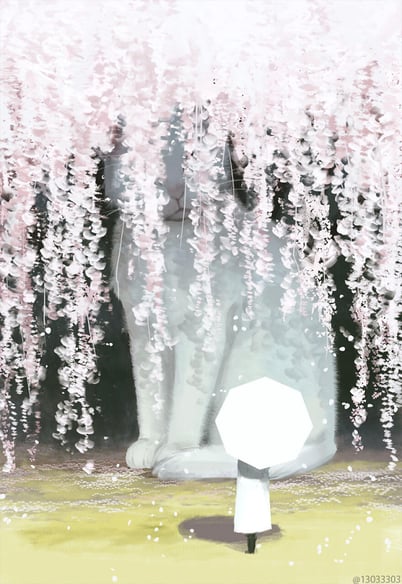 #16. The Shiba Inu breed is Japan's one of the most cherished treasures.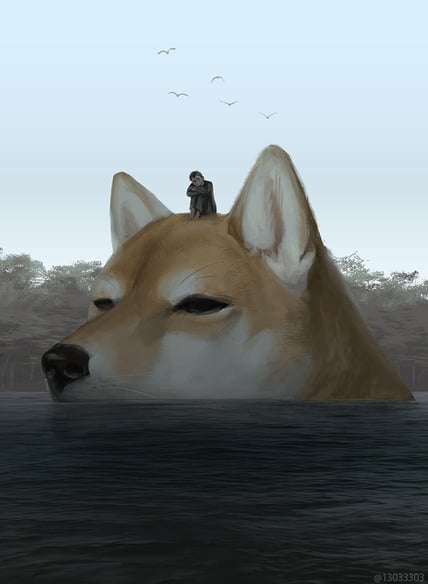 #17. Tanukis were known to be masters of illusion.
#18. Looks like he just finished wrecking the town.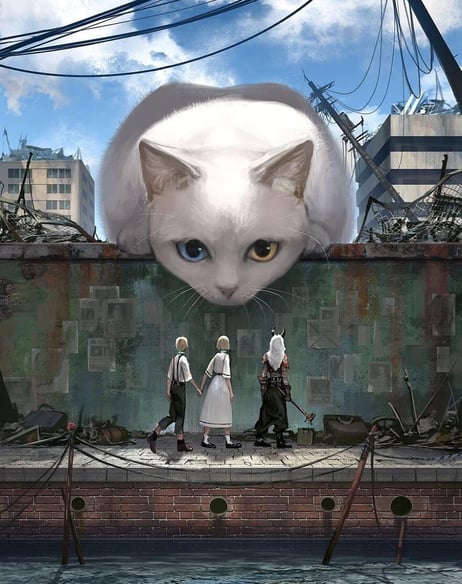 #19. The little girl is going through something difficult and the creature is her only friend.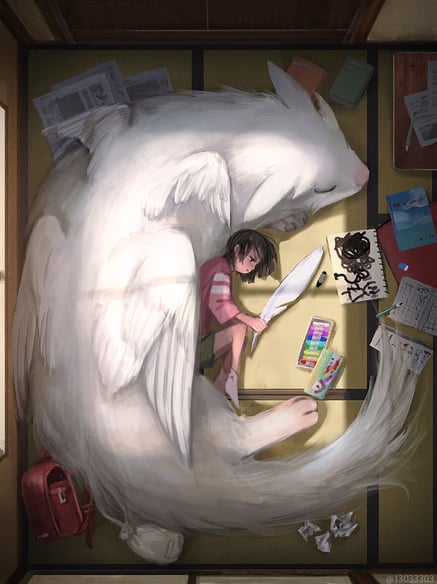 #20. The cat, the girl, and the soft sunlight streaming through the window.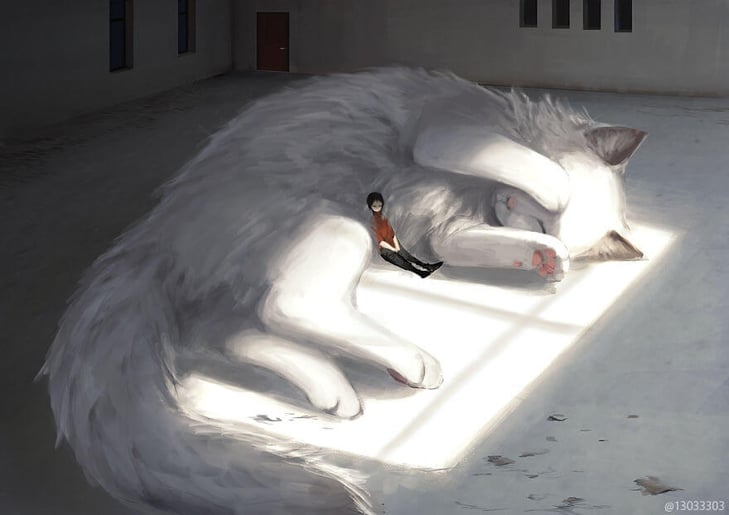 #21. This pic reminds us of the trailer for the liar princess and the blind prince.
#22. This looks like it could be something from a Ghibli Film!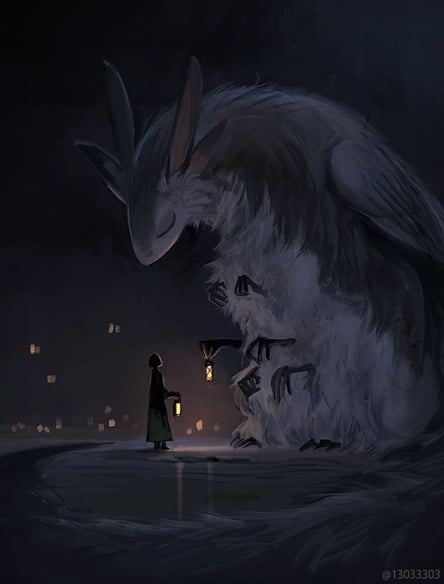 #23. Needs more horns!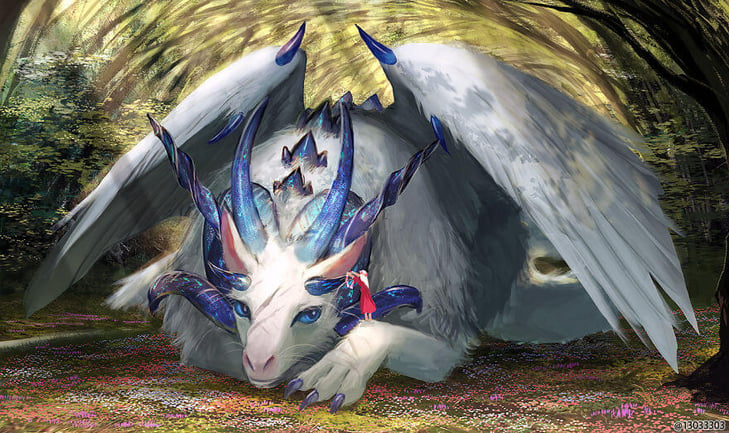 #24. Inoshishi (the boar) is part of the Japanese culture and mythology.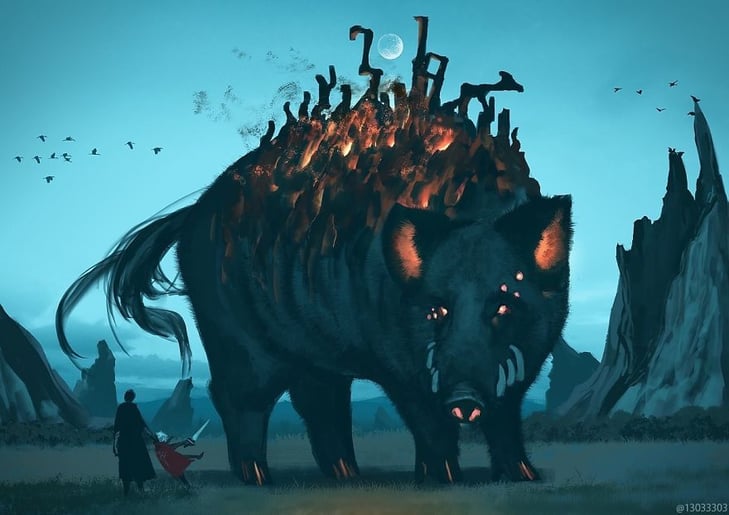 #25. A sleepy guardian braving itself against the cold blanket of winter.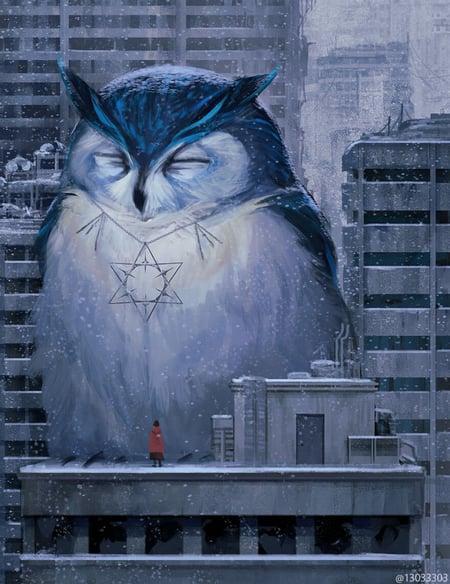 #26. Does it remind you of a kirin?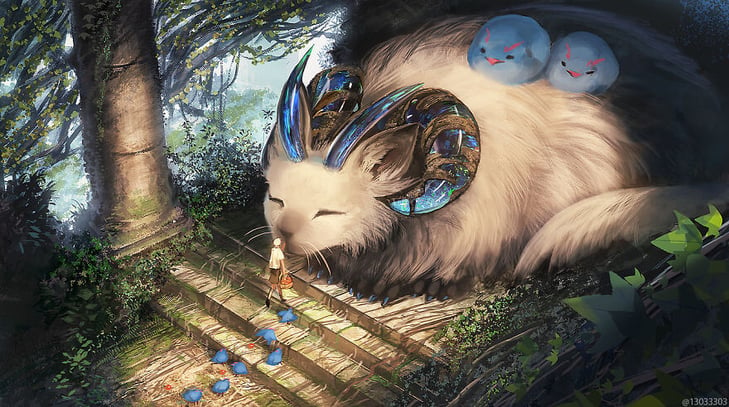 #27. Is that a dog or a fox?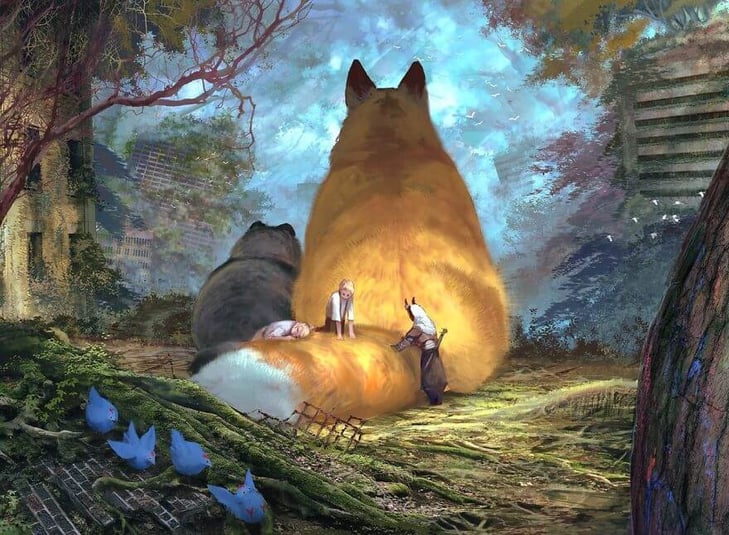 #28. You can't find me! Come on and try!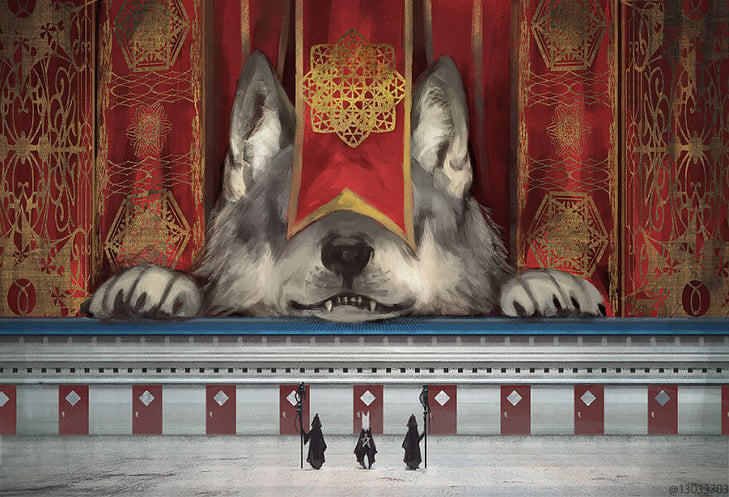 #29. It looks like a very wise being.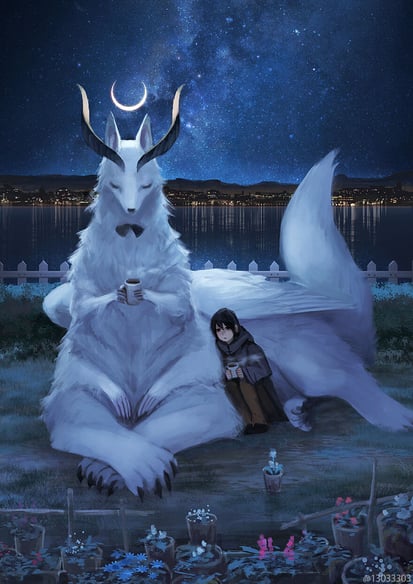 #30. It says "tomare" which is a command to stop.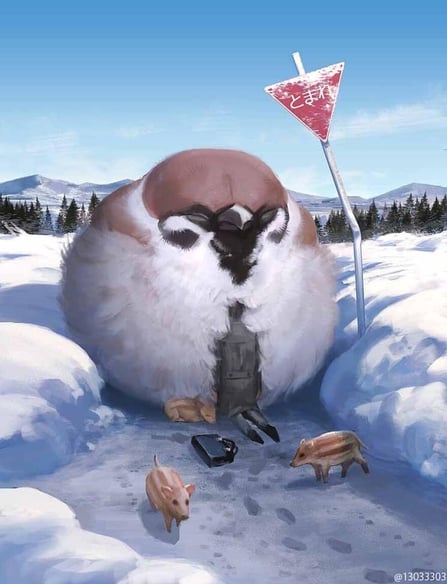 Please let your family and friends know about this collection!