Elongated Skulls In Paracas Are Not From Human, DNA Analysis Stated
The desert peninsula of Paracas is located in the Ica Region, entirely inside the province of Isco, on Peru's southern coast. This location was where Peruvian archae
The desert peninsula of Paracas is located in the Ica Region, entirely inside the province of Isco, on Peru's southern coast. This location was where Peruvian archaeologist Julio C. Tello, known as the "father of Peruvian archaeology," made some of his most puzzling discoveries in 1928. He discovered a sophisticated and intricate burial place while excavating beneath the rough surface of the Paraca desert.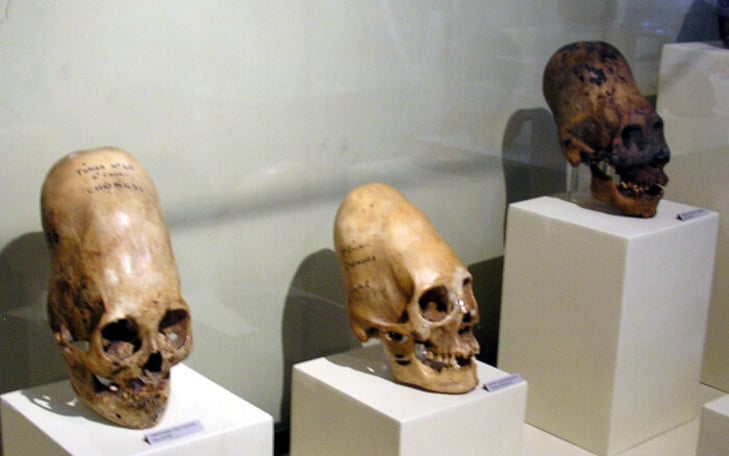 Deformation of the skull: An ancient religious practice
The skull deformation methods used on the aforementioned Paracas skulls differed from those used elsewhere, which caused variations in the final products. Some notable tribes in the South America have carried out the method of binding baby skulls to transform their shape, creating drastically elongated heads.
Putting enough pressure gradually over a long time with the help of ancient tools, these indigenous people succeeded in carrying out cranial deformations found in ancient African societies as well. It's interesting to note that, in contrast to typical human skulls, this approach simply changed the contour of the skulls while leaving the cranial size, weight, and volume unchanged.
This is where the Paracas skulls hit. They are at least 25% larger and up to 60% heavier than typical skulls, which is thought to be impossible to do using conventional methods. The skulls' architecture are also entirely different from those of regular skulls, with only one parietal palate as opposed to two in typical skulls.
Later tests made the Paracas skulls more enigmatic
The director of the Paracas Museum of History sent five samples of the Paracas skulls, including hair, teeth, skin, and bone fragments, for genetic testing. The results were astounding. The remarkable features that the examination revealed just added to the enigma surrounding the skulls. To avoid "affecting the results," not even the lab performing the analysis was made aware of the provenance of the skull.
Surprisingly, mitochondrial DNA, which is maternally handed from mother to child, revealed mutations that were enigmatically unknown to any man, primate, or mammal ever known. The samples contained mutations suggesting that experts were working on the skulls of an entirely new 'human', completely contradicting with Homo sapiens, Neanderthals and Denisovans.