"Halo" The Series Has Already Been Renewed For A Second Season
Developed by Paramount+ in collaboration with Amblin Entertainment and software house 343 Industries based on the iconic same-name video game, the highly anticipated
Developed by Paramount+ in collaboration with Amblin Entertainment and software house 343 Industries based on the iconic same-name video game, the highly anticipated new series Halo has just showed up with the first official trailer a few weeks ago, arousing enthusiastic reactions from fans. It is clear that Paramount has faith in the project because the production costs for the first ten episodes alone exceeded the astonishing sum of $200 million. Now it appears that the studio plans to go even further.
The show's renewal for a second season was formally announced during the presentation of the investors of this streaming service. As a result, Kyle Killen will be replaced as showrunner in Halo season 2 by David Wiener (writer and co-executive producer of AMC's Fear the Walking Dead). In other words, it seems like the brave Master Chief's televised adventures are just getting started.
According to Chief Programming Officer Tanya Giles, "Halo is an epic, world-building opportunity for Paramount+, and we're happy to give fans a second season to look forward to when we premiere the series next month." "Halo will deliver a thrill-ride for fans of the game and non-gamers alike, as it ties together stunning visuals with a deeper look at the personal stories behind these iconic characters, all set within an epic battle for the future of humanity."
Producer Kiki Wolfkill recently announced in an interview that the series would also launch a new Halo narrative canon that will be distinct from the one we are already familiar with from the videogames.
In contrast to some of the stories we've encountered or read about in the games, "we do have some context and perspective," he said. "In order to distinguish it from core canon and safeguard both core canon and the television tale, we're referring to this as the Halo Silver timeline. And by that, I mean being able to allow ourselves the opportunity to evolve and for both to be what they need to be for their media without tumbling into one another.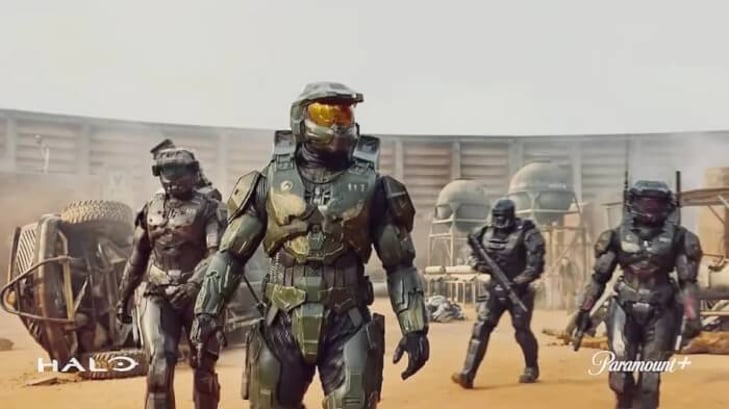 As for the cast, the iconic protagonist of the series Master Chief will have the face and size of Canadian-American actor Pablo Schreiber. Jen Taylor will be none other than Master Chief's devoted I.A. ally Cortana.
We will also see Natascha McElhone as Doctor Catherine Elizabeth Halsey, creator of the super-soldiers of the Spartan program, and Bentley Kalu, Natasha Culza, Kate Kennedy as Spartan Vannack-134, Spartan Riz-028, and Spartan Kai-125, respectively. The Master Chief will have a complicated connection with his lifelong army comrade Soren-066, who will be played by Bokeem Woodbine.
Danny Sapani will play Captain Jacob Keyes, Olive Gray will play Miranda Keyes, Shabana Azmi will play Admiral Margaret Parangosky, Charlie Murphy will play Makee, and Yerin Ha will play Quan Ah, a new character who is described as a brave sixteen-year-old from the outer colonies who has a close bond with the main character.