Man Blames Woman For Donating To Animal Shelter Instead Of His Friend's Ill Kid, But 100% Netizens Stand By Her Side
When it comes to friendship, we don't mind lending a helping hand to our friends if they ask for it. We occasionally need their assistance, too. However, we should s
Her friend, a 25-year-old male, knew her from high school, but they didn't come to a close relationship at that time. Following their high school graduation, they haven't run into each other or spoken in any way.


The former friend just forwarded her a link to a GoFundMe page that his pals had set up for their child. The young patient had cancer and was ready to have surgery. The OP offered to send them $500 because she felt horrible for them (she had contributed $500 of her $2000 Christmas bonus to an animal shelter and used the remaining money for her personal needs).

On the other side, the friend was upset with her. The OP wrote, "He said that the kid is more important than a bunch of stupid animals. He even demanded that the OP return the funds to the shelter and distribute them to his pals in its place.

Firstly, he was just someone she knew five years ago, and now, he asked for her help for his friend's child. Simply, the OP could refuse to give a donation because she didn't know that family.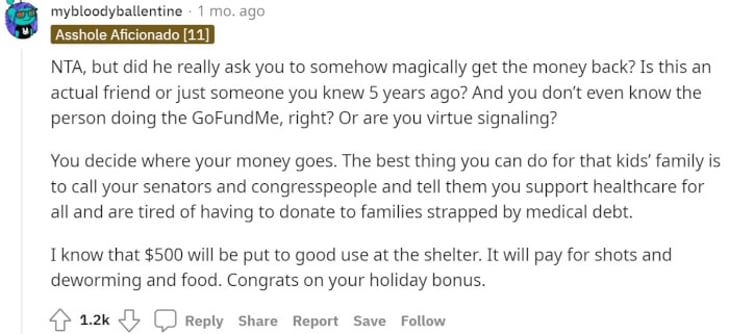 She was the one who could decide where her money goes. At least, she wanted to donate $500, which was not a small amount, so he should've thanked her instead of being that toxic.


Moreover, who knows whether GoFundMe was a real account, or whether it was created by the wrong hands for another purpose.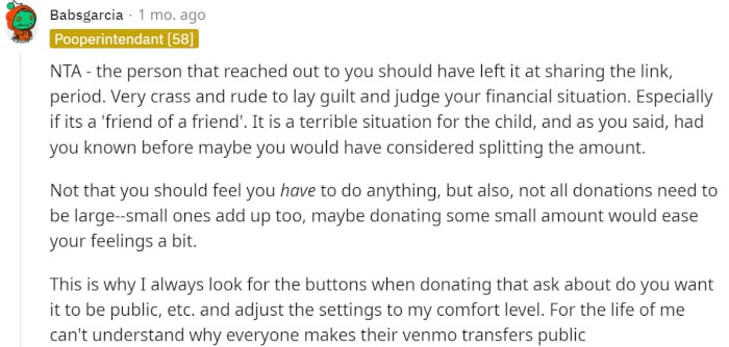 Some people suggested blocking him.


And more people supported the woman.