Man Refuses To Give His Friend Who Has Autistic Son A Positive Reference For Dog Adoption, Redditors Thank Him For That
It is wonderful to save a dog from a shelter so that it might have a better future. Therefore, it's crucial that the shelter investigate everything before giving som
It is wonderful to save a dog from a shelter so that it might have a better future. Therefore, it's crucial that the shelter investigate everything before giving someone their dogs. Considering the CV of people who offer an adoption is a must, and sometimes, further interviews are required throughout the whole process. And, similar to hiring new employees, the shelter may favor someone who seems to assure the safety and comfort of the animals once they are adopted into a household.
Read the full post below.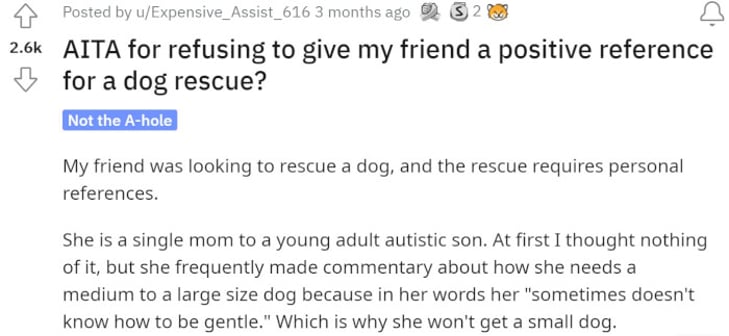 It's pretty much like a "red flag".
It's not about the dog's safety, but it's also for the safety of her son as well.

And we should protect the dog before something bad happens.

Some Redditors say that they would do the same as the OP if they were in his situation.


People rally behind the OP and thank him for thinking for the dog's welfare.


How are you doing? Please express your thoughts in the comment section below.