Man With PPD Asks If He's Wrong To Threaten Harassing Neighbor With His Dog, And Reddit Says "NO"
The neighborhood is one of the most important considerations we make when moving into a new home. It's good to have neighbors who are kind, friendly, and caring. But
The neighborhood is one of the most important considerations we make when moving into a new home. It's good to have neighbors who are kind, friendly, and caring. But what if you suddenly move to a town and have to deal with uncooperative neighbors?
This is the case of @mydoghatesyou917, a Reddit user who shared on r/AITA a story he was bothered by an "aggressive predator" neighbor in a park. A personal protection dog (PPD) that was well-trained not to bark or bite others without permission belonged to the twenty-eight-year-old man.
OP (original poster) once came across a neighbor looking for misplaced keys while out for a run with his dog in the park. He started enquiring as to whether he had noticed his keys on the grass somewhere else. As night fell, he requested OP for a light to aid in the search. Then, the next questions boomed out, and OP started feeling uncomfortable being asked too many questions at a time.
The park employee stopped him as he was ready to depart and inquired about his dog while indicating that he would like to pet him. OP naturally hoped not. The guy continued grabbing the dog's leash, and that really pissed OP off. "Oaken backed us up, roared low, and flashed teeth. neither snapped nor bit. We departed. He revealed how he got away from the man.
When he got home, he made the decision to post the oddball on the Neighborhood app. However, things took a turn for the worst when his wife viewed the post and began mentioning the OP's "violent attack dog" to other neighbors. Read the entire article here.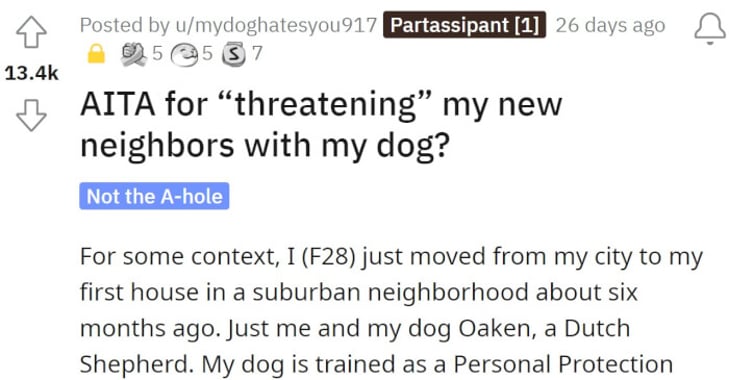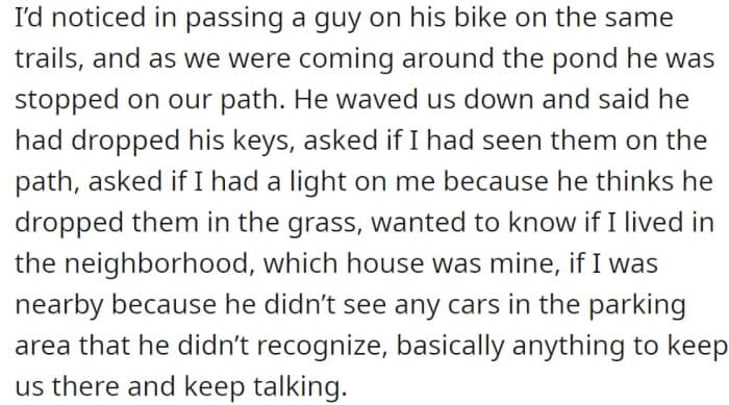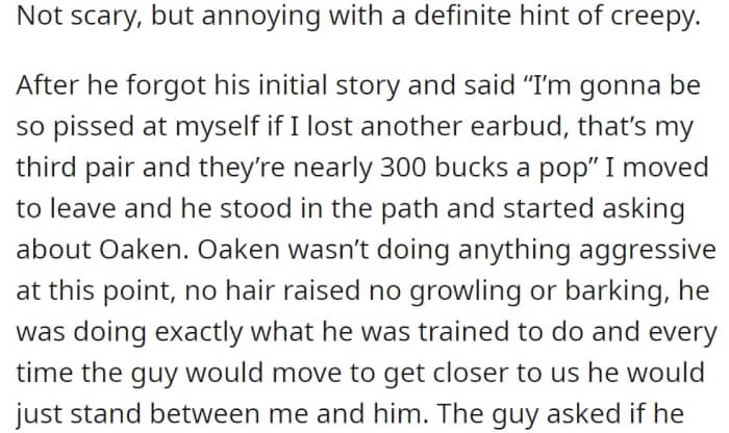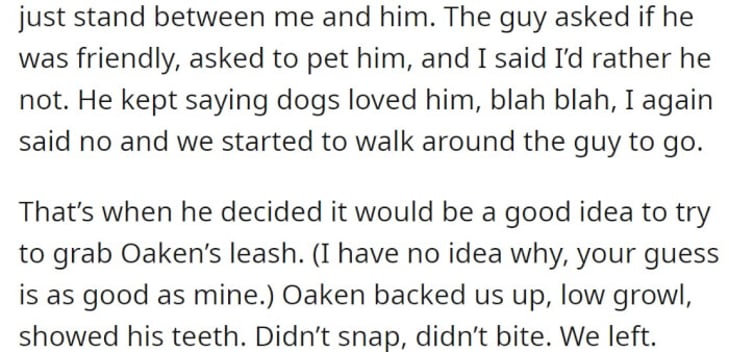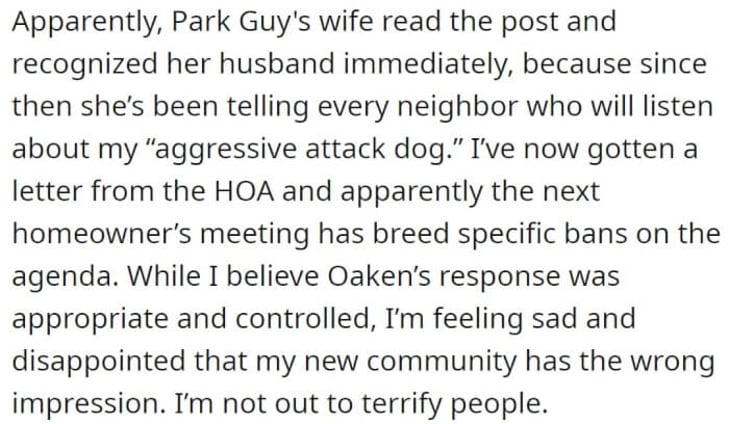 13.4k people voted up the man's story on Reddit. Thousands of netizens were invited to join the discussion before coming to the final verdict that OP is absolute 'Not the A**hole'.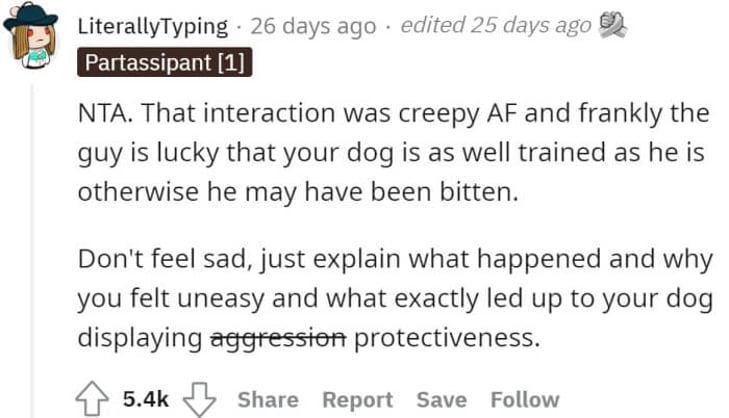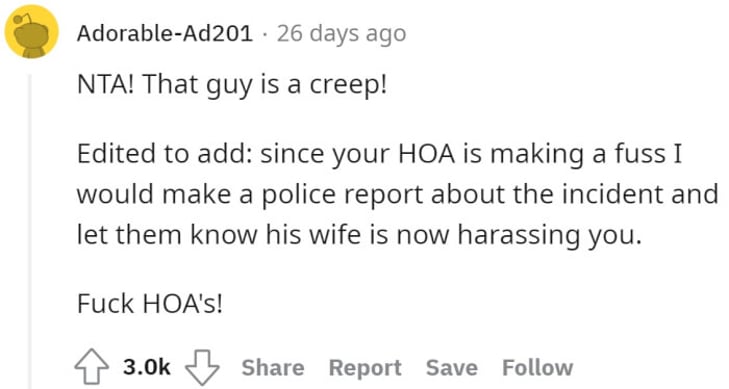 Redditors advised OP not to overthink and feel guilty about the situation because they would do the same if they were him. The bothersome actions of the neighbor were repulsive.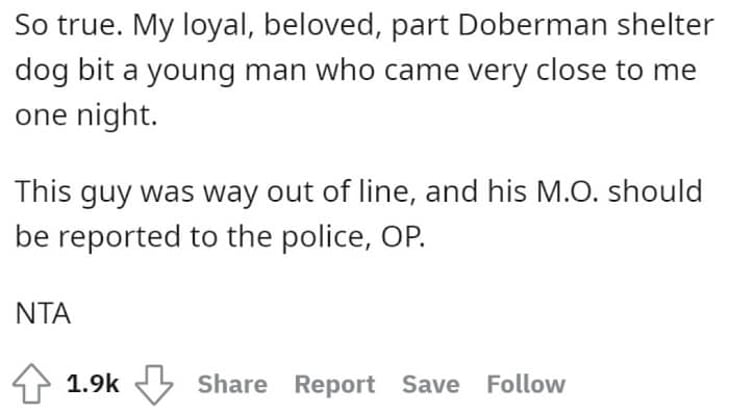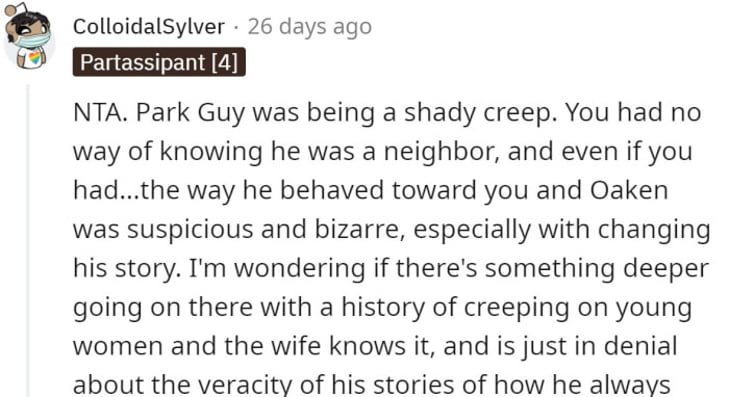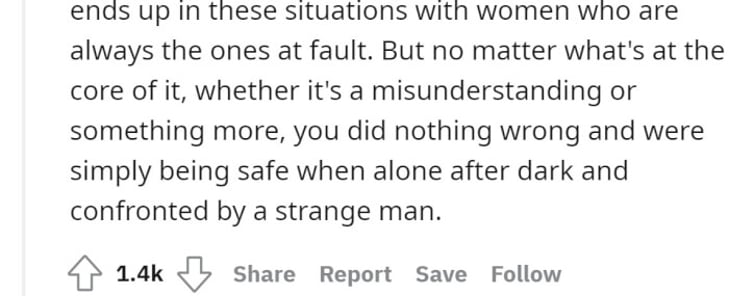 Some even wondered if he had any problems and if he could think probably. More of their responses can be seen here.