Netizens Support Girl Who Kicks Out Her BF Because Of His Dog, And Here's Why
Couples have been known to split up over disagreements involving their animals. An illustration of that is this tale. Recently, a Reddit user shared on r/AITA how sh
But kindly refrain from screaming at the girl right away; everything happens for a reason.
Actually, the original poster (OP) had nothing at all against dogs and wasn't even a dog hater. The problem was that her apartment didn't allow dogs, so she raised an elderly cat and a guinea pig in her house. Since the dog was a puppy, the man she had been seeing for eight months adopted it. She adored him and had no issues with his dog.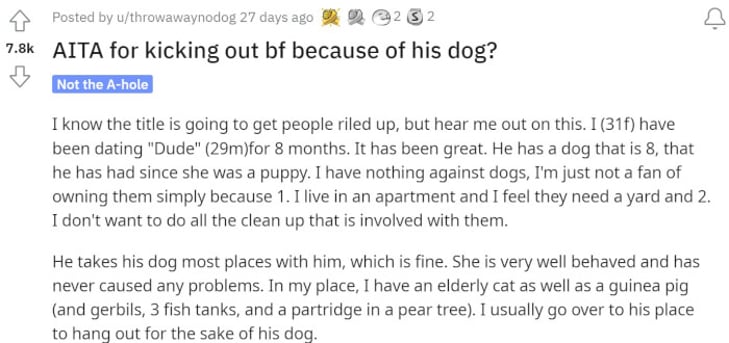 He wanted to visit her home one day to assist her in replacing a wall mount. She accepted his offer without predicting the problem it would bring about.
When she went to investigate the dog's persistent barking, she found that it was directed at her dogs. Her boyfriend advised locking the animals in a different room to keep them secure. Even making the joke that his dog had previously killed rabbits.


We should think about the woman's motivations for acting in that manner before reaching a conclusion. Was she upset with the boyfriend because of his dog? No, actually! She was annoyed that her boyfriend hadn't asked her if she could bring the dog. To make room for his dog, he also demanded that she lock her pets up in THEIR own house, which seemed absurd. The way he described how his dog had killed bunnies indicated that he didn't appreciate both his girlfriend and the dog.
Additionally, Redditors support the woman. And here is how they reacted to the story.