Owners Are Saying "Goodbye" To Their Pets In The Most Interesting Way You Can't Expect
You may find it difficult to leave your pets even for a short period of time because being next to them may be so relaxing and comforting. Saying farewell to someone
There is a good-natured Reddit thread called "No Stupid Questions" where individuals post queries they might feel uncomfortable or ashamed to ask elsewhere. @Tbonewiz, a user, asked users how they say farewell to their pets before leaving the house. 48.9k Redditors have upvoted this topic, and roughly 6k of them are encouraged to post a response.

Naturally, pet owners will lavish them with needless attention and spoil them like children in order to demonstrate how unwilling they are to part with them. Some owners think that it's important to tell the pets where you're going and when you'll return. They feel secure as they wait for you at home because of that. Scroll down to see some of the most effective phrases used by owners to reassure their animals before they leave the house.
#1 "Store" and "Work"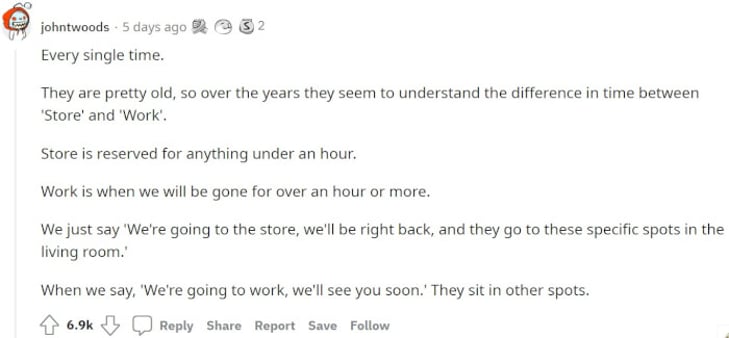 #2 "Streeeeeetch"

#3 "I'll be right back"

#4 "I'll be back, okay?"

#5 Forehead kisses are sweet!

#6 "Be good okay, I love you, my sons"

#7 I'll try this way with my cat.

#8 "I am not abandoning you."
#9 "Have a great day, sweetie"

#10 The cats and scritches love your belly rubs

#11

#12 "Eat any burglars, haha!"

#13 That's sweet!
#14

How are you doing? How do you bid your dogs farewell? Share with us in the comment section.