Rescuer Goes Viral For Threatening To Confiscate Dog After New Owner Denies Her Request
When you acquire a pet, you are undoubtedly looking forward to a fresh experience that will enhance your life with additional joys, happiness, and fun. A pet will be
When you acquire a pet, you are undoubtedly looking forward to a fresh experience that will enhance your life with additional joys, happiness, and fun. A pet will become a member of your family and a devoted friend who will be there for you in both good and terrible times. However, this woman got into difficulty when she took home a puppy from a rescuer.
She described how the rescue worker continued to influence her and her dog even after the adoption in a Reddit post that was published on the legal advice subreddit. The rescuer demanded that the woman add her on Facebook so she could see what was going on with the dog, whether it was living a good life in the new house or being well-treated by the new owner.
The woman responded by declining the request because it was an invasion of her privacy. In addition, it wasn't stated in the contract that she had to be Facebook friends with the rescuer if required. What followed, then? Please read the entire article here.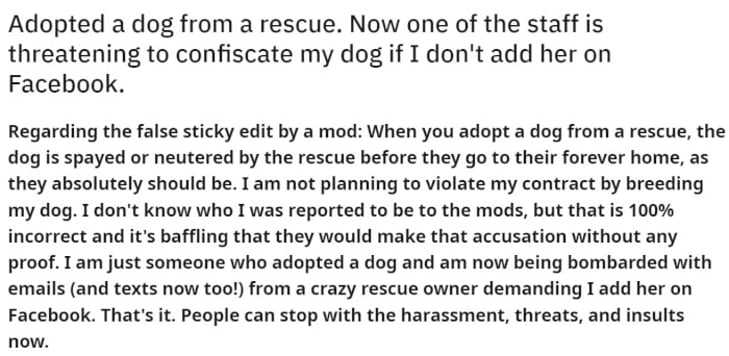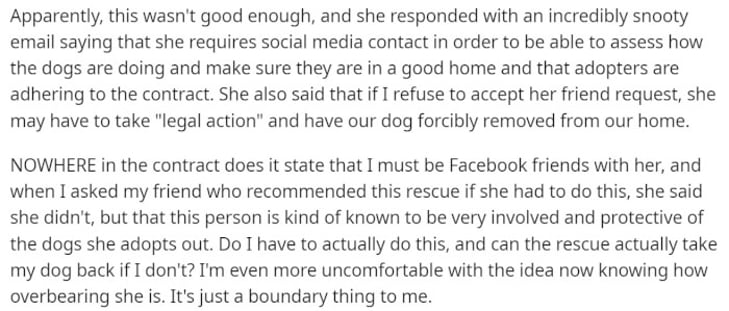 How would you handle this problem if you were in her position?
In my opinion, it is normal that many Rescue want to keep further updates of the pets after they find them new forever homes. The demand itself is neither offensive or ridiculous; rather, it is how they make it. They can obtain photos from the owner in a variety of ways, not just through Facebook. She would have accepted, for instance, if they had requested her to email updates and images because it wouldn't have violated her privacy.
Additionally, Redditors supported the OP (original poster) and offered her some beneficial counsel.