Woman Arrested After Her Pit Bull Attacked On Child, Irresponsible Owner Or Dangerous Dog Breed?
Following the posting by user u/emilee spinach of a picture of a pit bull attacking a 6-year-old boy in Dallas on Thursday, Feb. 17, the Reddit community has recentl
Recently, Reddit community has raised a discussion after a user u/emilee_spinach shared a post of a pit bull attacking a 6-year-old boy in Dallas Thursday, Feb. 17. Around 3:15 p.m., an accident occurred in the 3400 block of Timberglen Road, close to the President George Bush Turnpike. The young boy was attacked by the dog as he was stepping off the bus. With severe physical injuries, he was hospitalized in critical condition. He is reportedly in stable condition, which is good.
Source: Reddit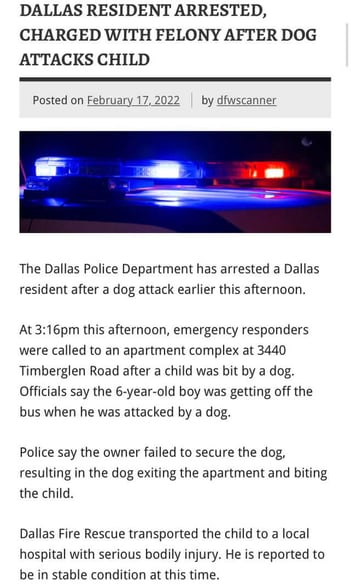 According to Dallas Police Department, Daneka Black, the dog owner, 31, failed to secure the dog, resulting in him exiting the apartment and attacking the child. "Felony 3 Attack by Dangerous Dog Resulting in Serious Bodily Injury" was the charge against her. A 25,000 bond was imposed for her. Black's dog was in the custody of Dallas Animal Services, which said that he had no previous history before the incident.

Here is how people reacted to the post: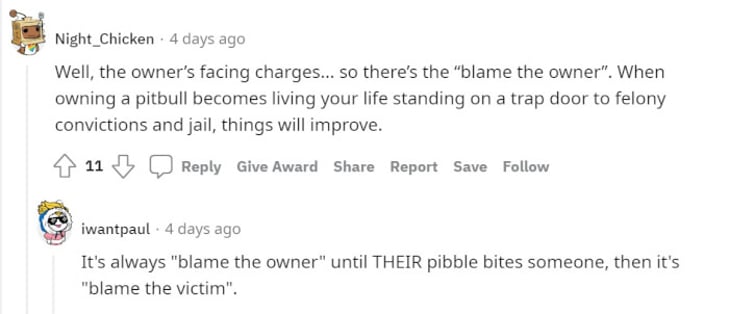 The majority of people concur that pit bulls are hazardous, however some disagree. They think that pit bull owners are actually to blame when their dogs maul others.
"We are devastated to learn that vicious canines have been attacking people. These horrific tales have damaged the reputation of canines, particularly pit bulls. People who are hostile toward them characterize them as hazardous. Pit bulls, however, are not as dangerous as we may believe. They shouldn't be any more dangerous than other dog breeds if properly raised. Owners of pit bulls are the dangerous ones; the dogs themselves are not.