Woman Asks If She's Wrong Not To Buy An ESA For Daughter, And Redditors Are Dividing Themselves To Reply
Dogs are incredible animals. They are adorably adorable, fiercely loyal, and very smart. Additionally, they are prepared to serve as service dogs, guide dogs, milita
Dogs are incredible animals. They are adorably adorable, fiercely loyal, and very smart. Additionally, they are prepared to serve as service dogs, guide dogs, military dogs, and rescue dogs.
Service animals (SAs) are animals that have been trained to do certain activities for their owners who have medical conditions or mental health problems. On the other hand, emotional support animals (ESAs) are no different from regular pets, with the exception that they offer persons with psychological or developmental issues indoor comfort and security. Your doctor (or therapist) will advise whether you need an ESA or a professionally trained SA depending on your condition.
A mother recently asked for assistance on r/AITA regarding a domestic dispute she was having with her daughter. The OP started by telling that her daughter suffered from anxiety disorders. Her therapist advised having an ESA as part of her therapy plan. She assumed that since she owned a Maine Coon cat, it would serve as her daughter's ESA.



As a result, a conflict happened between her and her daughter. So she looked for guidance on Reddit.
An analysis of the replies reveals that people have differing viewpoints on the issue. Many people agree that the OP is NTA and blame the therapist for the way he gave recommendations.

ESAs and SAs are very different from one another. A SA has access to public areas since they are prepared to assist their owner anytime necessary, including buses, aircraft, schools, and hospitals. The rules differ from region to region, so an ESA stays at home and is prohibited in some locations.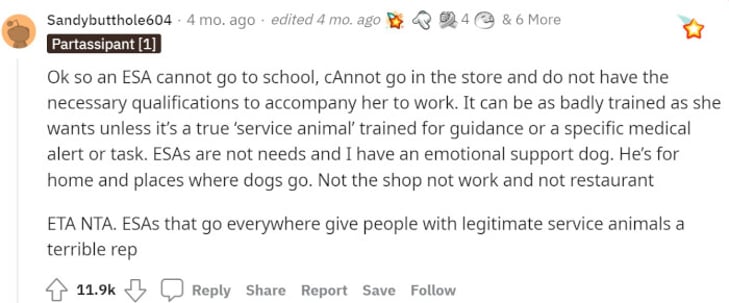 The doctor said that her daughter needed an ESA, but then he suggested a service dog. This led to various misunderstandings, which made the issue more challenging.
Meanwhile, some people blame the woman for refusing to get an animal for her daughter just because he doesn't like dogs. If the therapist advises getting a service dog, her daughter's health will depend on it.